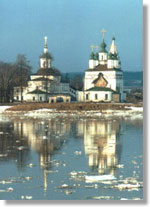 The temples of Dymkovo village are situated on the other bank of Sukhona river opposite of the ensemble of the cathedrals of the Assumption, the St. Prokopij and the St. Ioann (Sobornoe Dvorische).
It is said that these churches are the monuments of the participation of townspeople in the battle on Kulikovo field in the time of Tartar invasion. The first churches were built in 1383.
At this time there are two churches in the architectural ensemble the temple of St. Demetrios of Thessaloniki with five domes and the bell-tower and the temple of St. Sergius of Radonezh with one dome which were built in the first part of XVIII century. There are the gates, the parts of the corner tower and the church walls.
The present stone church of St. Demetrios of Thessaloniki was built in 1700 - 1708 next to the old wooden one.
On the eastern front of this church there is the big icon of Our Saviour. In the middle of 15 century there were the big icon-lamp in front of this icon. At that time the prince of Velikij Ustjug Dmitri Shemyaka organized the sentry box in Dymkovo. The sentinels had to watch of the road from Totma to the upper Sukhona and switch on the icon-lamp in case of danger.
There were not any stoves in the church of St. Demetrios of Thessaloniki so there were the services only in summer. In winter the church of St. Sergius of Radonezh was used.
There were two floors in the church of St. Sergius. The ground floor was built in 1739 - 1750. There were the altar of St. Nicholaus who is the heaven patron of the all travellers. The upper floor was built in 1764. There was the altar of St. Sergius of Radonezh. In Russian architecture this type of church sometimes was named «the ship».
Unfortunately none of the iconostasis remained. In the interior there are only four fine stoves.
In 1859 the merchants Ilia Gribanov and Pavel Zhilin gave a money and the stone walls with two towers were built.
In the soviet time in 1930 this churches were closed. Later they were given to the Museum.
This ensemble is fine both on the sunrise and the sunset.