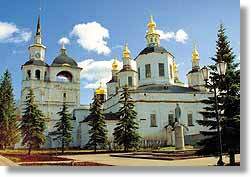 On the oldest square of Velikij Ustjug you can see the main church of the city - Assumption cathedral. Since ancient times it was the most important church because of Russian Tsars who donated money for construction and decoration. There were the most famous icons.
The history of Assumption cathedral counts a lot of times. There were five wooden churches on this place which had the same name. All of them were ruined at the time of city fires. Instead of last wooden cathedral at the middle of XVI century was built the stone one. The builders took as the example the main church of Russia - Assumption cathedral in Moscow Kremlin and it was the first stone cathedral on the Russian North.
Now you can see the Assumption cathedral without any changes since it was built in XVII century. There is the high bell tower which was built at the end of XVII - XVIII century.
The interior of Assumption cathedral was made at the second part of 18 century in baroque style. There is unique iconostasis which made from wood and richly decorated. There worked joiners from Ustjug, Moscow and Yaroslavl. The icons for this iconostasis were made by the priest of the cathedral Basil Alenev. He was a painter who founded the new school of icon art in Velikij Ustjug.
The Museum has restored the cathedral since last quarter of XX century. At this time the iconostasis is under restoration. Now you can see this cathedral only outside. In summer you can visit the bell tower and have a nice view of Velikij Ustjug..