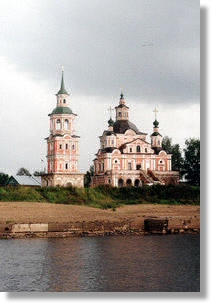 The St. Simeon church is one of remarkable monuments of the middle of XVIII century in Velikij Ustjug is situated on the bank of Sukhona river.
This church was built instead of wooden one in 1725. After big city fire the church was partly destroyed and then one of the merchants of Velikij Ustjug gave enough money and in 1765 the church was built completely.
The St. Simeon church is only one which was built in European baroque style in Velikij Ustjug. The interior of the church was made in baroque style too.
In fact there were four churches under the one roof. Three of them in the top tier: Nativity of Virgin was the main altar, the left altar was St. Nicholas and the right altar was St. Vladimir. This part was used only in summer because it was difficult to keep warmth in such a big church. Especially when the temperature could be lower than - 30 C. So in winter church services were in the small bottom part. There was only one altar and now you can visit it too.
One of interesting features is the bell tower which was built separately.
At this time both the museum and community of believers are responsible for keeping St.Simeon church in a good condition.