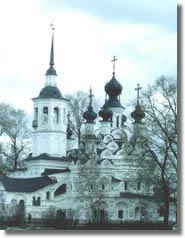 Amongst a lot of churches of Velikij Ustjug the Ascension church is the special because of the very rich decoration. It reminds us the well known the Trinity church in Nikitniki and the Nativity of Holy Virgin in Putinki in Moscow.
The stone church was built in 1648 and the donator was a very rich merchant Nikifor Revyakin.
The Ascension church has five domes with forged crosses. You can see six altars under the one roof. There is the wide staircase with the well decorated porch. This church has the bell-tower on the top of which there is the angel.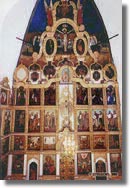 The interior is the collection of icons and iconostasis which were made in XVIII century.
The majestic carved gilt iconostasis is one of earliest baroque iconostasis of Velikij Ustjug. There are a lot of carved sculptures and decorations.
At this time in the Ascension church there are two exhibitions. One of them is about St. Prokopij and St. Ioann of Ustjug. Other is about the wooden sculptures and the carved iconostasis of Velikij Ustjug. These are the most interesting and valuable exhibits of the Museum.